Those who know me best know that I love traveling to new places and experiencing new cultures and cuisine. I try to put my passport to use every year. So 2013, I decided to put it to use to visit Peru.  The country has been on my must-travel-to list for quite some time now and I was excited to finally have to opportunity to go.  And what could be a better reason, than to watch two of my friends get married!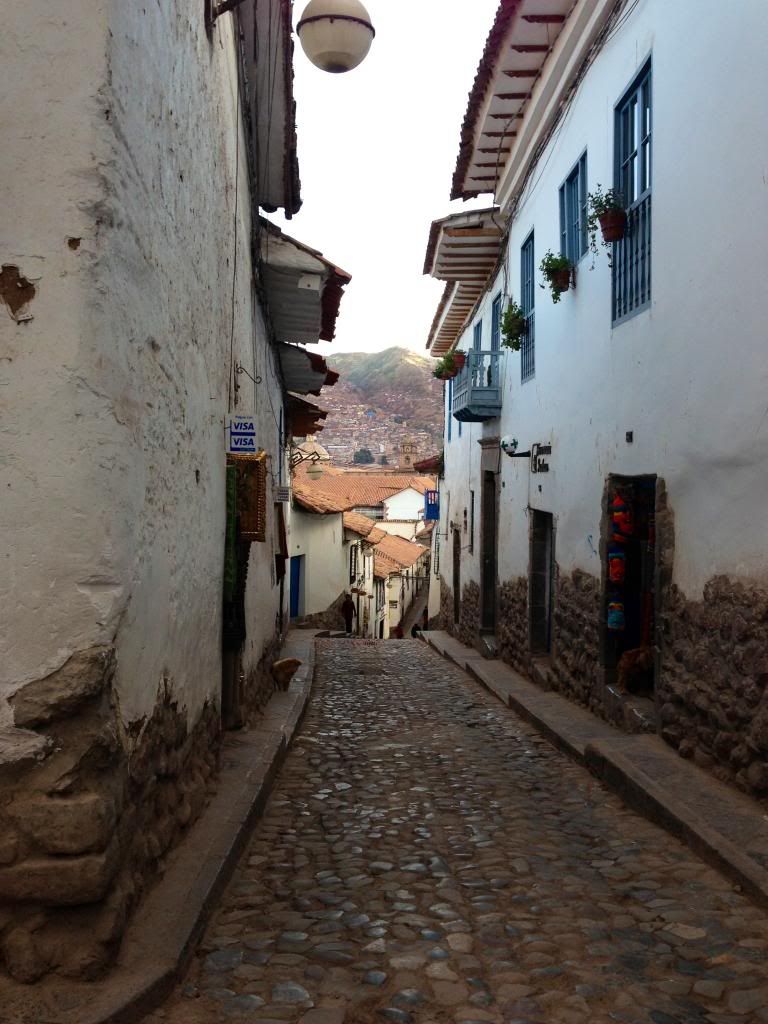 CUSCO
We spent the first 4 days of the trip in Cusco, which is a quaint city located about an hour plane ride away from Lima. It's an ancient city which at one time was the most important city in the Incan Empire. It now serves as a beautiful city with sweeping views of the Andes….and also the city in which the wedding took place. The altitude in Cusco is more than 12,000 feet above sea level. Thus, making the air thin. It's very common for hotels, restaurants, and other public buildings to have oxygen tanks on standby for those are who are short on air. Altitude sickness affects many differently. Some experience nausea, headaches, shortness of breath and general discomfort. It's advised to drink plenty of water and allow your body to adjust to the new altitude. And for the adventurous traveler, Cocoa Tea is recommended by the locals.
The wedding took place in Cusco in a beautiful hotel which used to serve as a monastery hundreds of years ago. The grounds were stunning and beautifully manicured and the building was breathtaking. And speaking of breathtaking, Mariella, the bride, looked gorgeous. They are a wonderful  couple and it truly was one of the most beautiful weddings I've had the privilege to attend.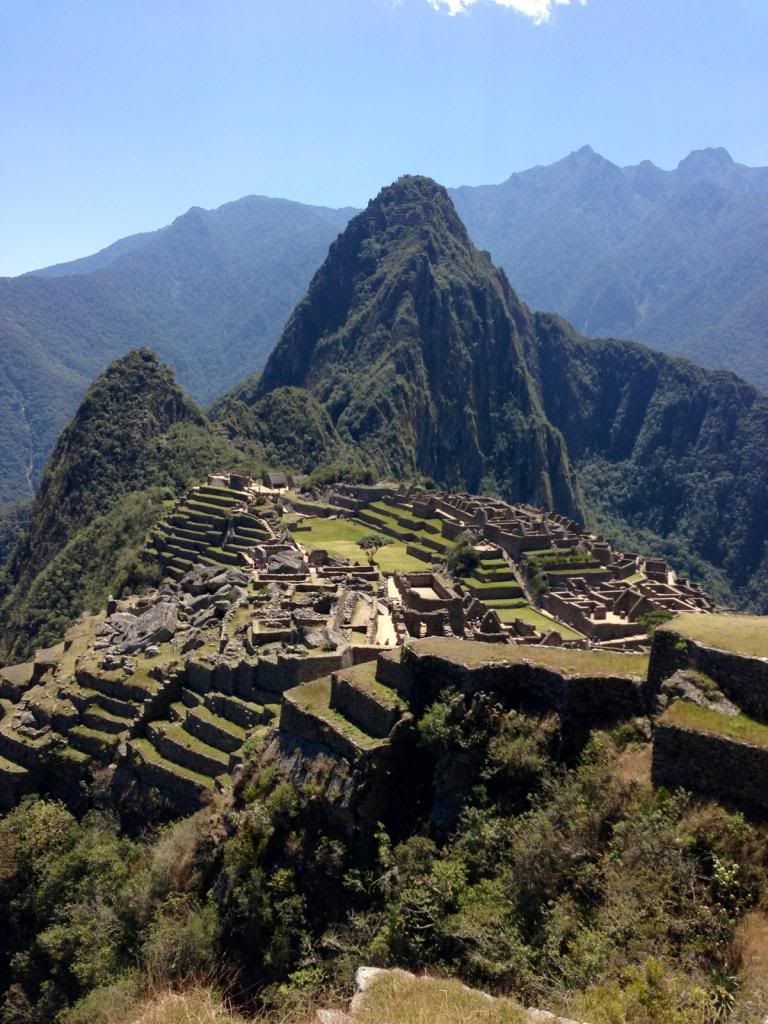 MACHUPICCHU
No trip to Peru would be complete without out a visit to Machupicchu, one of the new Seven Wonders of the World. It's an amazing empire built by the Incans nestled on one of the peaks in the Andes Mountains. Many travelers each year take the pilgrimage to the ancient ruins by foot. Starting the journey in Cusco, the trek takes about 4 days. Along the way, the hikers are sure to experience the Peruvian culture first hand through the stunning scenery , the small villages that hikers pass though and the pure serenity that only nature can provide. Others opt for a more luxurious option: by train (which is what I chose.) The train is comfortable and is equipped with a glass ceiling for maximum views of the Peruvian countryside along the way. Meals and beverages are served aboard the 4 hour journey through countryside, over rivers, and through mountains. You know you're approaching the foothills of Machu Picchu as you start seeing snow capped mountains ahead and intermittent ruins beginning to become more commonplace.  The train's route ends in a small city called Aguas Calientes, translated as "hot waters" due to the natural hot springs in the area. The city is located in the valley and surrounded by the green, jungle-like mountains.
Upon arrival in Aguas Calientes, we quickly checked into our hotel and set off for the bus ride up to the peak of the mountain where we would finally experience Machupicchu. The bus ride was a thrill for sure; narrow roads, a windy route, steep drop offs and no guardrails. The 20 minute scenic ride went by quickly. I recommend to anyone who goes to Machupicchu to get your passport stamped. It's a cool memento and a worth the wait in line.
When we finally arrived at the site of the ancient city, we were speechless. I have never experienced such natural beauty that is so intertwined with man's creation. And the architecture found within Machupicchu's ruins has been a mystery for many scientists and researchers. The site was built with such precision, that not even the blade of a thin knife can fit through the mortar-less stonework. Upon touring the site, we learned about other mysteries that have been baffling experts for a while: Where did this civilization go? It appears as though the people just disappeared hundreds of years ago. There are no records that explain this. Why did the Spanish not conquer this civilization as they had all other Incan civilizations of its time? We may never know. But one thing's for sure: the Incans left us with a true jewel.
Peru is truly a beautiful place to experience, so it's important that tourists are adequately prepared before their Peruvian adventure commences. Below are a few tips I would recommend to anyone who plans to make this journey.
 Allow time to adjust – Machupicchu is located in a very high altitude. Tourists should allow a few days in Cusco to adjust to the altitude before making the trek up to the site. It's common for tourists to suffer from altitude sickness. Travelers should drink plenty of water and avoid alcohol for the first few days and get plenty of rest. You can also visit a travel clinic beforehand and get a prescription for altitude sickness medication as a precaution.
Research the significance – Before heading to Peru, research the history of the land and its historical significance. Incan culture is a big part of Peru and it will help tourists fully comprehend the beauty of Machupicchu.
Endurance Prep – There are two ways to get up to Machupicchu. If the multi-day hiking/camping excursion is the method of choice, tourists should be sure to spend the months leading up to the trip exercising to build up endurance. It's not an easy trail, so the more prep, the more enjoyable the journey.
Be adventurous with food – Do not, I repeat, DO NOT eat at a McDonalds during your trip. Did you go halfway around the world to eat somewhere you can easily go to at home? Hopefully not! Part of truly experiencing a culture is through the food. Peruvian food is wonderful and exotic. Be sure to try the local delicacy: Cuy. Or as we call it in the states: Guinea Pig. It tastes just like chicken. Honest!
Try to learn a little Spanish – The people are nice and very helpful to tourists, but it's a nice way to prepare for your trip. Good phrases to know are "Thank you," "How much does this cost," "Where are the restrooms" and "No thank you." In either case, bring a language translator.
Get covered – Before traveling, I was sure to get travel insurance through Protect Your Bubble. It was affordable, easy to purchase and I enjoyed having peace of mind throughout my Peruvian adventure.
When planning your Peruvian adventure, remember that vacation insurance is a great way to cover trip emergencies, cancellations and interruptions. Visit ProtectYourBubble.com for a quick quote.