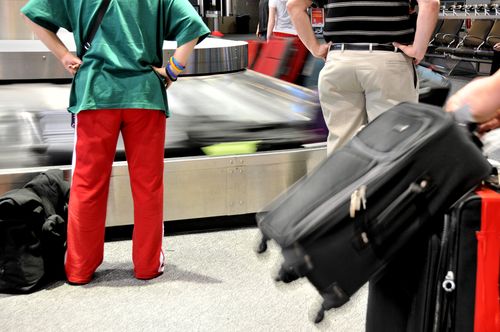 After considerable money-saving, research on finding the perfect vacation spot and months of searching for the best travel times, prices and accommodations, you've finally landed at your destination. A vacation you have long been waiting for and desperately needing for months. After waiting at the carousel for what has seemed like eternity, you realize that your baggage isn't showing up. It's LOST (cue the depressing music).


Unfortunately many of us have faced these situations during our travels. Whether it's your honeymoon, spring break or family vacation, it's never a fun experience, and even worse, you don't have anything to wear for the remainder of the trip! While we don't have control over what happens to our luggage after the check-in counter, we can take some simple measures to decrease the likelihood of it being lost. Below you will find some tips to help ensure your baggage makes it to your destination (or gets to you much quicker in the event a misstep does happen):


1) Keep ID Tags Inside and Out. Most of us already do this, but make sure you have a tag attached to your bag with your name, address and contact information. If you're a frequent traveler, invest in a durable and water-proof tag that won't tear off. It's also a best practice to keep a tag or piece of paper on the inside of your bag in case your outer tag falls off.


2) Keep a Copy of Your Itinerary in Your Bags. If you don't have a printer at home, ask the check-in counter for a copy of your itinerary. In the case that your baggage does go missing, keeping a copy in your bags will help the airline identify who and where the owner is.


3) Take a Photo of Your Bags. Prior to parting ways with your luggage, make sure you have a picture of it on your phone or camera. All of our baggage looks similar these days, and it can be hard to tell which one is yours. A picture will help the airline identify your luggage and get it back to you safe and sound.


4) Make Them Stand Out. To follow up on keeping a photo of your bags, also make them stand out! If you don't have a pink, yellow or lime green bag you should consider a colorful strap or duct tape to help mark your stuff. On another note, buying Gucci and other expensive bags may increase the risk of your luggage being stolen. Play it safe and use simple and quality luggage.


5) Get to the Airport On Time! Arriving to the airport late is already stressful enough. Wondering whether your baggage will make it to your plane by the time it takes off only makes it worse. Get to the airport early to ensure you and your things will make it to your destination.


6) Sometimes It's Just Lost: In some cases your baggage will not be found. To prevent yourself from losing your baggage and it's worth, remember you always have the option of travel insurance prior to your travels. Protect Your Bubble's travel protection plan provides reimbursement for lost, stolen or damaged baggage. No matter what happens you'll know your things are covered.