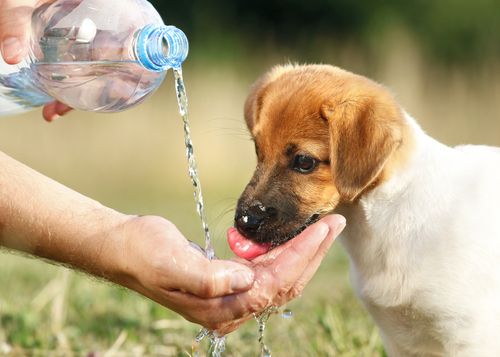 We all love spending quality time outdoors with our furry companions, but the summertime can pose some serious risks. As the weather warms up, it's important to take precautions for the safety and health of our pets. Below you will find some general tips on how to keep your pet happy, healthy and accident-free this summer:
1) It's HOT under this blanket of hair. While you're having fun under the sun, don't forget the summer heat is a serious hazard for your pet. Always provide water and a shady spot for your pet to rest. Avoid strenuous exercise and prolonged exposure to asphalt or sand that can burn a paw pad. NEVER leave your pet in the car on a hot day as temperatures can rise to 120 degrees in just a matter of minutes!
2) Bug-free! Fleas and ticks are more prevalent in the summer months. To prevent fleas and ticks, bathe your pet regularly with flea and tick shampoo and consider purchasing a flea collar for extra preventative measures. Talk to your vet for the best topical treatments for your dog and cat and be sure to check regularly for ticks and fleas during the season.

3) Visit the Vet. Make sure your pet's vaccinations are up-to-date. Other animals are more likely to be out in the summer months increasing the chances of being bit, scratched or even sprayed! It is also recommended that dogs and cats be on monthly preventive medication year-round for heartworm disease transmitted by mosquitoes.

4) Pass the Sunscreen. Bringing the pup to the beach is fun, but like humans they can sunburn causing pain, peeling and skin cancer. Make sure your dog has a shady spot to rest, plenty of fluids and sunblock for his ears and nose. Providing fresh water will keep your dog from drinking seawater which will make him sick.

5) Stay Prepared! If you're planning any travel this summer with your pet be sure to check out veterinary clinics and hospitals in the area that you are visiting. You never know when a situation may arise, and planning ahead can help to prevent a serious illness or injury. Luckily, Protect Your Bubble's pet insurance allows you to visit any licensed vet in the country helping you stay worry-free.