The holiday season is here and many of us are preparing for winter travel; while some of us will fly or even walk to our holiday destination, many will rent a car to get to Grandma's for Christmas dinner or to a friend's Hanukkah celebration.
While a rental car is a great way to get from point A to point B, it's important to remember the risk factors of the season, namely winter weather in certain areas, the number of travelers on the road, and more. In a recent survey we found that your rental car is especially at risk in 5 densely populated U.S.cities; is your destination among them?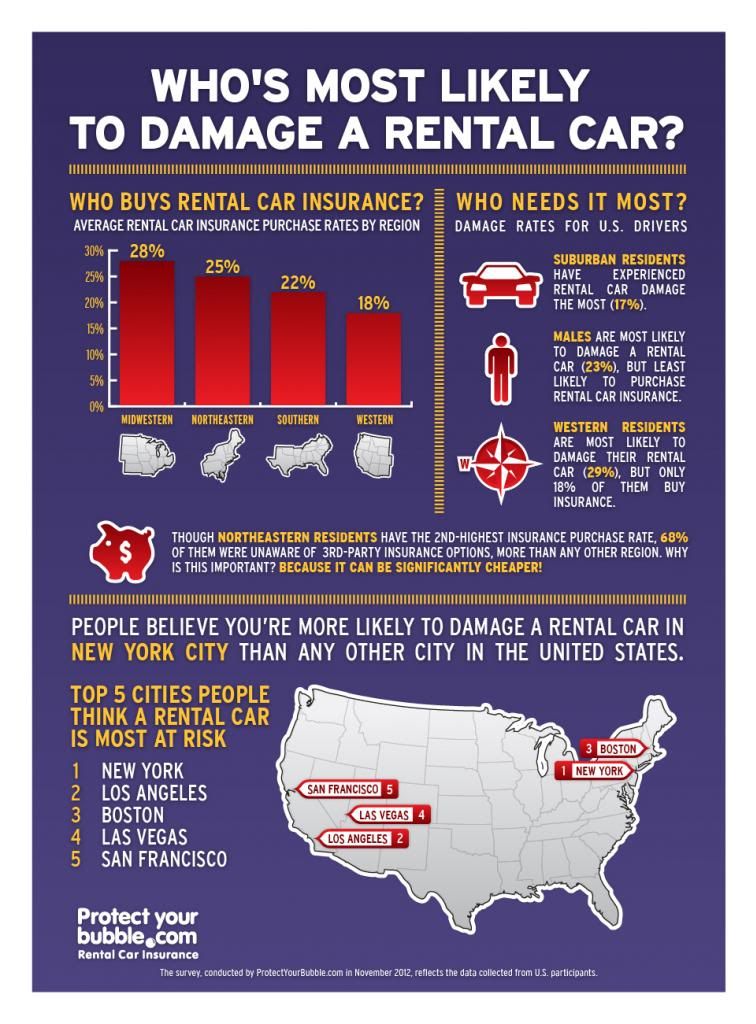 Our survey showed that New York City takes top honors when it comes to cities where your rental car is likely to be damaged.  The top five was rounded out by other large U.S.cities where Americans think they will most likely to damage or get into a car accident while in their rental car:
New York City
Los Angeles
Boston
Las Vegas
San Francisco
 "Whether it's for travel purposes during the holidays, or for a business trip, when you rent a car, it often means you will be driving an unfamiliar vehicle in an unfamiliar location," said Stephen Ebbett, President of Protect Your Bubble. "Under these circumstances, especially for those people who are not used to driving around in big cities, even the safest drivers may find themselves at a higher risk for a car accident."
Your rental car could be damaged anywhere, but when it comes to the holiday season, especially in a larger city, the chances are much higher. Here are just a few of the factors that make the holidays a more dangerous time for rental car damage:
Holidays often mean heavier-than-usual traffic as everyone hits the road to visit friends and family
While visiting friends and family in a new area, visitors are often stressed while driving from trying to find their way or navigate one-way streets.
Holiday drivers may have been driving long distances, which could result in fatigue or falling asleep at the wheel
According to the National Highway Traffic Safety Administration, Thanksgiving, Christmas Eve and New Year's Eve are some of the most dangerous days for drivers.
Don't let the facts scare you too much; even with the roads being a bit more hazardous this holiday season, you can have peace of mind while driving a rental. Protect Your Bubble gives drivers a new, cost-effective rental car insurance. At just $7.99 per day for coverage, you can save up to 75 percent by purchasing a policy directly from us rather than from the rental car counter (many of which charge around $35 per day.)
Already planning to rent a car? Get a quote today from us for car rental insurance.