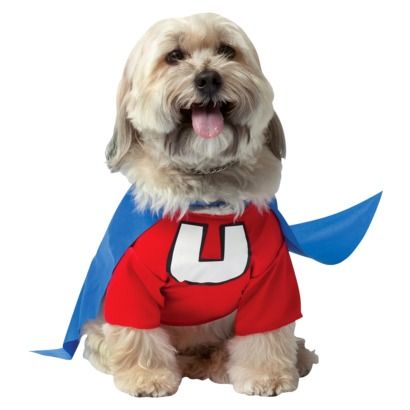 Happy Halloween! Looking for last minute pet costume ideas? Being the pet-lovers that we are, we've put together a list of our favorite doggie costumes that Fido is sure to love!
#1 – iPug – This could work for any breed, but it's "punnier" with a Pug. Get ready to get crafty! You'll need a piece of cardboard cut in the shape of an oversized iPad. Then, spray paint it black for the base. This is where you can have fun painting the recognizable characteristics of the iPad on the cardboard, like: the home button, apps, date and time icons, etc. One the paint is dry, you'll need to hot glue the "mock iPad" to a doggie t-shirt. Voila, an iPug!
#2 – Superhero – These pre-made costumes are cute and are available at many retailers including Target and Party City. The characters range from Superman, Batman, Underdog, Spiderman, Wonder Woman, Captain America, and the list goes on.
#3 – Waldo – This is a simple costume to put together. Any red and white striped doggie sweater or shirt would work. And, don't be afraid to spray paint the red stripes on a plain white doggie sweater. Head to the pet store and look for a white dog beanie and paint stripes on it. And the glasses? You can easily make the Waldo glasses out of black pipe cleaners.
#4 – Three Headed Dog – Venture to the toy store or anywhere that carries stuffed animals. Look for two stuffed animals that are the same breed (and coloring) as your dog. Attach the heads of the stuffed animals to your dog's collar. The three-headed dog is funny and oh so cute!
Whichever pet costume you chose, we wish you and your pup a Happy and Safe Halloween!  For a quick quote on Protect Your Bubble's Pet Insurance, visit ProtectYourBubble.com.